Monthly Archives:
October 2010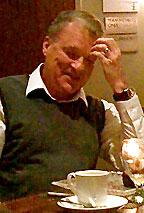 With over 35 years of engineering management, engineering systems integration and project experience, Tim's professional expertise lies in integrating people, technology and work processes.
Currently Vice President and Manager of Engineering at Parsons (Pasadena, CA). Tim manages a large multi-discipline engineering department, performing 1,500 projects for the Federal Government. Sample projects include Chemical Demilitarization of Vx Nerve agent, Nuclear Waste Clean-up, Alternative Energy Research, Department of Defense Military Base Operations and Intelligence, FAA airport expansions, Customs and Border Protection, and Department of Energy Nuclear Facilities. He serves on Corporate Task Forces for Global Talent Initiatives, Workshare, Engineering Shared Services and Sustainability Working Groups.
Prior to that, he served as Parson's Technical Director and Deputy Department Manager, where he deployed new technology on Infrastructure projects; integrated people, technology, and work processes; and was appointed by the CEO to lead a task force comprised of the Chief Technology Officer and other specialists to determine the most suitable "Emerging Technologies" for propagation across the Company Global Business Units.
He had previously served as a consultant to the firm, providing technology adoption for the Architectural, Engineering, and Construction Industries. He developed and directed the Computer Integrated Engineering (CIE) effort which was a multi-discipline task force with the goal of providing automated data transfer between engineering disciplines and handled Lifecycle data management for large-scale P&C plants.
Before Parsons, he was president of his own construction and real estate firm, Tim Piering Enterprises, which specialized in design, permits, subcontract management, MTO's, procurement and construction management.
In the military, he served as Company Commander and Battalion Construction Officer of the Marine Corps; and earlier as a Captain USMC with Top Secret Clearance.
His education includes: California Institute of Technology Certificate, Technology Management ;University of California, Los Angeles ME, Masters in Engineering, Engineering Executive Program; University of Iowa  BSCE, Civil Engineering; Loras College BA, Pre-engineering and liberal; with an affiliation with Chi Epsilon.
His interests: Flying airplanes and helicopters (Commercial Pilots License); Chief Instructor Integrated Martial Arts; TRIZ creative problem solving and Innovation; Jungian Psychology; and Doce Pares Eskrima.
He serves on the Board of Directors, Pasadena Japanese Cultural Institute; Board of Advisors, Global Waste Research Institute; Board of Advisors, Engineering and Environmental Science Academy; Board of Advisors, Ideation International; President's Executive Committee and Dean's Advisory Council, Cal Poly San Luis Obispo; Los Angeles Doce Pares; Inside Edge and Mastery Circle Los Angeles.
His professional certifications include: Certified NQA-1 Nuclear Auditor; Secret Clearance; Leadership in Energy and Environmental Design (LEED) Accredited Professional
Tim was a founding member of the Inside Edge, the parent organization of Mastery Circle Los Angeles and is currently developing ACT III.