Monthly Archives:
October 2010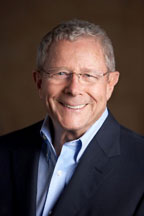 I entered this lifetime in Elizabeth, New Jersey in the early 30s. Fourteen years later, I lost my dad and started working after school. Following graduation from college and early marriage (now divorced), I joined the Navy's Officer Candidate School in Rhode Island just as the armistice was being signed in Korea. I extended my tour of duty and five years later, completed my service as Officer in Charge of a Navy Explosive Ordnance Disposal Team stationed aboard the USS Yorktown.
After leaving the Navy, my wife and I settled in the Los Angeles area where I worked as an agent with the Aetna Life Insurance Company, then gravitated into corporate insurance and employee benefit planning. After obtaining a securities license, I continued my studies and qualified as one of the early Certified Financial Planners, ultimately serving as President and Chairman of the Board of Directors of the Los Angeles Society of the Institute of Certified Financial Planners. I had also attained the designations of Chartered Life Underwriter and Chartered Financial Consultant. Later, as my practice expanded, I became a registered Principal and founded The Capital Advantage, a boutique financial planning firm in Pasadena. After moving the firm to Playa del Rey, I became an Advisory Associate with AIG Financial Advisors, a Registered Investment Advisor, practicing estate, investment and retirement planning. I closed TCA after 21 years and joined Legacy Financial Group in Torrance, CA.
I hold a B.A. in economics from Washington and Jefferson College, am a graduate of the College for Financial Planning and earned an M.A. in Spiritual Psychology at the University of Santa Monica. For many years, I delivered financial commentary on Los Angeles television.
All aspects of health, particularly exercise and nutrition, are very important to me. I continually attend seminars on self-development and have studied with Anthony Robbins, T. Harv Eker and Eric Lofholm. I am also a member of Nazrudin, a spiritual group serving a financial clientele, and am a member in good standing of the Mastery Circle, where I have served as Treasurer and Interim Secretary for many years.