Category Archives:
Member Profiles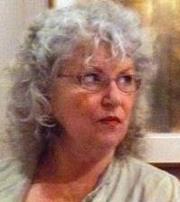 A native Californian, I have been lucky to live most of my life in Los Angeles within the shadow of the Hollywood sign. My family is proud that our four generations have supported and been supported by the movie industry. My father, brother, son and grandson were, have been, and are now Teamsters. My dad worked primarily for Hal Roach Studios in Culver City, but many other studios as well.
I loved getting to go "on location" and have wonderful memories of spending time with Dad at his work. Stories around our dinner table were about "The Duke", (who chose the team he wanted to accompany him on long shoots), Bob Mitchum, Errol Flynn, Ida Lupino, Lloyd Bridges, Gale Storm, Joe E. Brown, and so many more. I knew I was a lucky girl!
I even had a brief moment at a studio school. They were searching for another Shirley or Margaret. As a curly-headed child, Mom thought I might be the one. Alas, I did not make the cut. In hindsight, I'm glad I didn't. Peace and privacy mean much more to me than the limelight ever could.
A graduate of Hamilton High School, I married early, birthed and raised three beautiful children as a stay-at-home mom before evolving into a corporate wife as my husband built his career. Now happily single, I feel blessed to have my adult son and daughter, 11 grandchildren and one great-grandchild.
While occupying many employment positions over the years — from office management to banking, retail, massage therapist, hospice nurse and currently, property management of a 24-unit residential building — my great love is learning, growing and opening my mind in all ways. I returned to university several years ago, and continue to be an eager student as I pursue a diverse variety of classes, workshops and seminars (USM, C.G. Jung Institute, Pacifica, University of Judaism).
I enjoy gardening, knitting, reading, live entertainment, photography, and private and public gardens, travel, writing poetry, wonderful friendships – and especially the Mastery Circle!