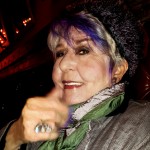 Born in the heart of Texas, raised in West Texas, graduated from North Texas State University, married young and moved to Dallas – and into the profession I knew I would have since the age of six — graphic design. Married a second time to a Mexican artist who won a scholarship to Art Center College of Design in Los Angeles. Moved here in 1970 and soon opened a design studio with my husband, which did really well. After 20 years, divorced again and struck out on my own.
I joined the original Inside Edge in 1986 – and haven't looked back! So far, I've survived embezzlement, near-bankruptcy, lung cancer twice, caring for my aging mother, uterine cancer and the normal ups and downs of life.
I've traveled to England, France, Italy, Egypt, Peru, India, Nepal. I never had children, but am happy to be "aunt" to some of the most wonderful young people in the world!
I am interested in all things of a spiritual nature, all aspects of the arts (especially Outsider and crafts), animals (especially my two dogs and two cats) and the beauty of Nature. I have stacks of books and I keep buying and reading more. I enjoy shopping (anywhere, anytime), collecting eclectic stuff, wearing unique finery, socializing and having fun with wonderful friends – mostly fellow MCLAers.
My proudest design accomplishment is the book Cowboy Ethics: What Wall Street Can Learn from the Code of the West; followed by Cowboy Values: Recapturing What America Once Stood For; and this year – The Try: Reclaiming the American Dream – all written by James P. Owen with Brigitte LeBlanc and available on Amazon.com.