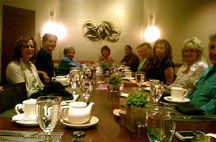 We are so happy to participate in our Mastery Circle that we want to share with you how you can start your own Circle.
A group of individuals from all walks of life, we meet once a week to share insights and personal lessons in a safe and caring space  and to study and apply the highest possible concepts to our lives. We go through a process of clearing blockages and strive for spiritual and personal excellence. As a group and as individuals, we aim for Mastery in all areas of life: body, mind, spirit, work, play and relationships.
The Mastery Circle involves sitting in a circle and sharing from the heart. We call it our "family of choice". Our members have grown close and are willing to share deep inner feelings. Many members have had healing experiences as a result of this heart connection, while others became more successful in their business and personal lives. Primarily, members experience a new spiritual aliveness, combined with a sense of destiny and desire to contribute to the world on a larger scale that extends into their daily life.
The Mastery Circle follows a streamlined, simplified format that can be launched with no financial investment and as few as six people. Our wish is to have interconnecting circles, all mutually supporting each other — doing both spiritual and practical work in the world in such a way that we will see great personal transformation, personal success, and peaceful connection on a global scale. We have found that the small effort of attending one meeting a week has produced enormous rewards.  This is a time of great change and a need for the loving support of like-minded/hearted peers.
While in the Circle, we share from the heart, as well as study and apply the highest possible spiritual material. This includes discussion of books, study courses, audio and video tapes and guest speakers. Members rotate responsibilities at the meetings in order to include everyone as equal members. This also encourages members to take personal "ownership" of the Circle.
The meetings are spiritual, yet non-denominational in a religious sense. We are looking for the deeper truths that are the foundation of all religions. We are looking to include others in a spirit of love and acceptance to heal the splits. We enjoy discovering truth together with its follow-on experience of love and aliveness. We honor and allow all points of view and look for commonality in these systems.
HOW TO START A MASTERY CIRCLE
Visit Us One visit is worth a thousand words, so if you are in the Southern California area, visit our chapter and see how we conduct the meeting. More importantly, catch the spirit in which we conduct the meeting so you can transmit it to your group.  Or you can print out our website, invite us to your proposed chapter or contact us by phone and we'll help you get going.
Invite People To get started, personally invite at least six people who are hungry to grow, are spiritually minded and willing to support others. Have them invite others who are in alignment. More people increase the energy – ideal is 12 to 30 members. Let the group be "self-selecting" — those not attracted will naturally leave. Allow the group to grow organically, slowly, naturally. Strive for quality and the quantity will follow. You will be surprised at the synchronicities that occur!
Select a Location Find a nice centrally-located restaurant with a private room where you can meet and not be disturbed.
 The nicer the location, the better!
 You may be able to get the room at no charge if you insure management that the group will order enough food to make it worthwhile. Ask for individual checks. That works better than trying to split up a large sum on a single bill.
First Meeting Before the first meeting, make copies of the Mastery Circle's flier (see attached PDF document) and hand them out prior to and at the meeting. Select a time and date for the meeting each week. We have found that breakfast meetings from 7 to 9 am on the same weekday every week (Tuesdays for us) works well. Choose what works best for your group, then make it the same time and day each week. Have a good presentation prepared on an interesting topic for the first meeting in order to create excitement and build momentum.
Assign Meeting Responsibilities Be sure to rotate meeting responsibilities each week. The key is to get everyone involved early so everyone takes "ownership" of the Circle. At the end of each meeting, ask for volunteers for the next meeting:
– Facilitate (guide) the morning format
– Lead Meditation
– Lead Invocation
– Handle food orders (if buffet isn't available)
– Take notes for minutes
– Present the morning's topic
– Lead closing prayer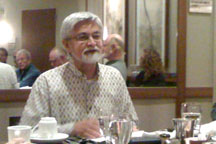 During the Business portion of our meetings, members recommend topics and/or presenters to the group. The Speaker Coordinator then contacts the proposed speaker and sends a form to be completed about their topic, along with a brief guideline of our format. Later, the membership votes to accept the presenter.
Connect and Share Email minutes of previous week's meeting to Circle members and send letters or make phone calls to non-computer users. Email works well to keep members connected and involved between meetings. Sign up with a centralized email company (we use Yahoo Groups) so that email addresses of the group are not subject to use for commercial promotions, etc
The Mastery Circle is not, in essence, a business networking group, however, meaningful business and personal connections do result naturally from interactions between members.
Connect and Share In the early stages of forming a Circle, a Group Communicator can contact members and guests by phone or email. Once the Circle is established, less administrative effort is required, but in the early stages, this is a great boost to the group's growth. Now we have a "Sunshine Committee" — two members who check-in with those who have missed meetings, are under the weather, etc.
Post and Download Post any notes, presentations, future topics/presenters and suggested materials from your meetings on the Mastery Circle website to share with absent members, guests, and other Circles.
Create Membership Guidelines As a group, discuss your thoughts about membership — how many members? charge weekly or monthly fees? how much for guests?  More details on this below.
Establish Administrative Duties The area of dealing with the administrative requirements, necessary for any group, was probably the most volatile for our founding Mastery Circle. Like other facets of our organization, our approach has reflected our group's tendency to be very collegial and avoid structure whenever members are comfortable with that. We chose to become a Common Law Trust for tax purposes. We elected a president, secretary and treasurer. This was done to protect funds collected from members and used for both Mastery Circle-sponsored activities for members and donations to charitable organizations. This has not impacted the natural flowing style of our meetings.
Additional Gatherings When we have a speaker or topic we wish to explore in more depth than available in our morning meetings, we often have salon evenings, or even full/half-day/weekend events. These may be hosted in a member's home with a potluck dinner or catered at a out-of-town location.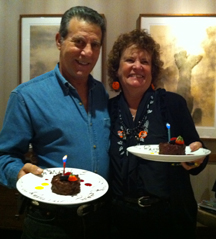 As an extended family, we often celebrate personal events (birthdays, weddings, graduations, etc.) and holidays together, i.e., Annual Thanksgiving Leftovers Party, and Tree Trimming Sunday at members' homes. We also enjoy attending plays, films, concerts or events that members suggest. Spouses, significant others, family members and friends are welcome at these outings.
Establish Financial Involvement It's important to establish financial guidelines and to openly discuss your Circle's financial requirements. For example, when we plan outings or additional gatherings, we vote whether or not to make this a Circle-sponsored event, wherein our Circle pays all (or half) of the costs (admissions) of members.
So there you have it…the highlights of how to set up your own Mastery Circle. If you are interested, please feel free to contact us. We will be happy to work with you and answer any questions you might have.